Fox Business Spotlights UV Angel's Technology and Partnership with RiverPoint Apartments in Washington, DC
WASHINGTON, D.C. (April 19, 2021) — UV Angel, maker of next-generation pathogen control technology, was featured Monday on Fox Business for its partnership with RiverPoint apartments in Washington, D.C.
UV Angel's Chief Medical Officer, Dr. Linda Lee, was interviewed for the segment, characterizing the company's efforts to create cleaner, safer environments for RiverPoint residents, and illustrating how the company's technology works to effectively neutralize harmful pathogens at their source.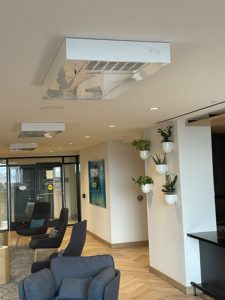 RiverPoint representative, Paige Grzelak of Western Development Corporation, says of the partnership, "UV Angel technology has been instrumental in our steps to create safer environments for our residents, staff, and families. The UV Angel Clean Air™ units are continuously cleaning the air which gives our people peace of mind knowing that the technology is working to keep them safe and healthy. We're confident that our investment in UV Angel pathogen control technology will be beneficial for years to come."
UV Angel's Clean Air™ technology is currently installed throughout RiverPoint's common areas and amenities, working to keep lobbies, workout facilities, and lounges safe for residents. Moving into phase two of the partnership, UV Angel will continue to expand technology installation throughout the building.
This partnership marks just another of UV Angel's successful implementations of safe, effective ultraviolet light technology to provide cleaner environments for residents, families, and staff, across industries and applications.
Connect With A UV Angel Expert
If you'd like to know more about UV Angel's products and software, leave a message below. One of our expert solutions specialists will get back to you as soon as possible.