Coronavirus Effectiveness Statement
In our mission to develop pathogen reducing technology, UV Angel follows a multi-tiered approach to the efficacy claims for our products.  That process is driven by best in class engineering, industry driven science, and a multimodal validation process.   Our claims are supported by proven scientific, engineering and testing methods and are the guiding principle of the UV Angel mission.
An example is our recently released UV Angel Clean AirTM treatment system which underwent extensive testing and detailed analysis in a test chamber. In the chamber, gram-negative, gram-positive, fungus and viral surrogates were aerosolized. In addition to these removal rates, 80 viruses, bacteria and fungi were also mathematically modeled for UV-C intensity and filtration. This modeling included known airborne pathogens, known contact pathogens and additional new and emerging pathogens.
As for the novel coronavirus or SARS-CoV2, we have not tested our products against this emerging pathogen. Aerosolizing this organism requires a BSL3 laboratory and our third-party independent lab is a BSL2 lab.  There is, however, a great deal of scientific data on j/m2 of exposure to coronaviruses and SARS-CoV1.  Since SARS-CoV2 shares a similar genome there is no reason to doubt our technology will perform the same in treating this novel coronavirus.
Our certified third-party laboratory testing was performed on gram-negative, gram-positive, fungus and viral surrogates known to be hearty in comparison to enveloped viruses like the novel coronavirus.  In the case of the UV Angel Clean AirTM Series we tested a commonly used non-enveloped surrogate bacteriophage (MS2) and with the UV Angel Adapt we tested endospores (C. diff).
Tom Byrne
Chief Executive Officer
Dr. Linda Lee
Chief Medical Affairs & Science Officer
Proven Results
UV Angel has conducted two separate third party laboratory tests on their UV Air product against surrogate pathogens. The tests conclusively support UV Angel Air's claims to neutralize bacteria, fungus and viruses in the air. In addition, our Chief Medical Affairs and Science Officer, Dr. Linda D. Lee has conducted years of research, development and clinical studies for the advancement of ceiling mounted UV-C air treatment systems.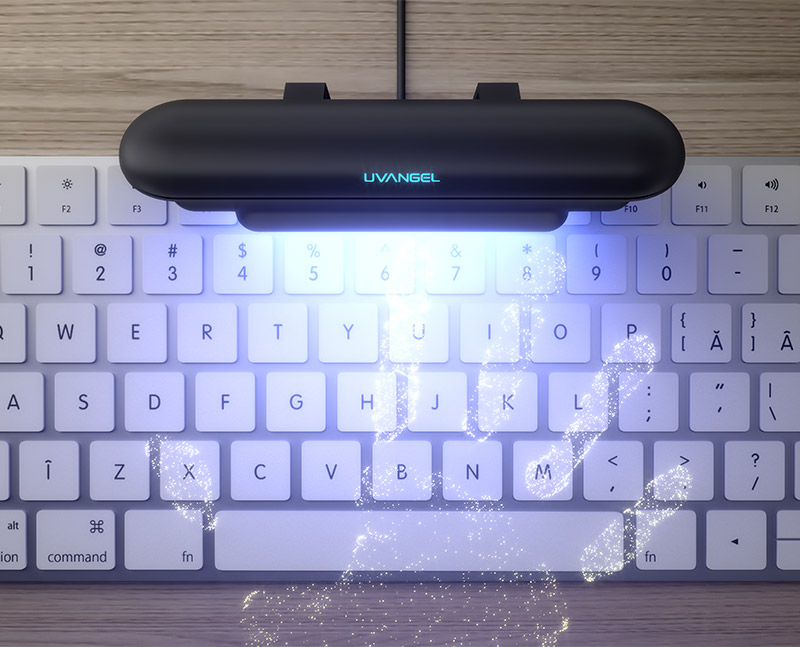 Reducing Keyboard Contamination
A clinical study was performed to evaluate the effectiveness of UV Angel Adapt to produce sustained reductions in pathogen contamination on keyboards, without requiring alterations for staff workflow. Data was compiled from bacterial samples taken pre- and post-implementation of UV Angel Adapt devices.
Of 203 baseline samples, 95.1% were positive for bacteria.
25% of the baseline samples had HAI-related bacteria.
Comparison of pre- and post-UV-C decontamination values revealed a >99% reduction in keyboard bioburden before and after installation of the UV Angel Adapt units.
Decontamination of Computer Keyboards
On in-use keyboards, the UV Angel Adapt significantly reduced total bacterial counts and potential pathogens after a single 6-minute cycle, it was very effective in reducing MRSA and NDM-1–producing E coli on steel carriers positioned on keyboard keys.
Mitigating the Spread of Pathogens
Another study was conducted to evaluate the utility of UV lamps in mitigating the spread of pathogens in an ICU.
Testing of surfaces in the ICU including vitals monitors, ventilators, keyboards, dialysis machines and IV pumps
Even with standard cleaning, a mosaic virus spread to 10% of surfaces in the ICU.
Post UV light deployment, only 1.2% of surfaces tested positive for the DNA tracer.
UV light slowed the spread of DNA virus with a 90% reduction at 48-hours.