Download Restaurant Guide
Fill out the form below for immediate access to our Restaurant Guide, outlining how you can implement UV Angel products at your restaurant and create a more comfortable environment for customers, clients and staff.
Give Your Customers the Confidence to "Dine In" with UV Angel
Restaurant-goers are craving great dine-in service. But in order to ditch worn-out takeout, they now must consider comfort and safety alongside food quality and service when choosing where to eat.
UV Angel is working with restaurant owners around the country to give diners the confidence they need to enjoy dining in. Our systems create safer and cleaner dine-in environments through next-generation pathogen control technology.
As the world reopens, UV Angel's engineered room-level source control technology is playing a critical role in building consumer confidence and employee satisfaction by helping make restaurants and other indoor spaces measurably cleaner and safer.
To learn how you can implement UV Angel products at your restaurant and create a more comfortable environment for customers, clients and staff, click the link below to download the UV Angel Restaurant Guide. 
Hear from Dr. Linda Lee, Chief Medical Affairs & Science Officer at UV Angel, on how restaurants can provide protection and comfort to the dine-in crowd with UV Angel's UV-C technology
Major brands and Fortune 500 companies trust UV Angel's patented ultraviolet (UV-C) light technology to give guests the confidence to dine-in again.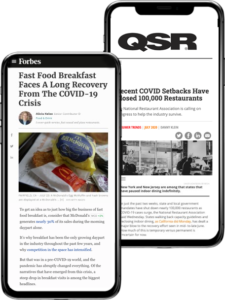 Create safer lobbies and common areas
Reduce the spread of infectious aerosols
Demonstrate care and concern for customers and staff
Add room-level controls, independent of HVAC systems, to target pathogens at their source
The next generation of clean air is here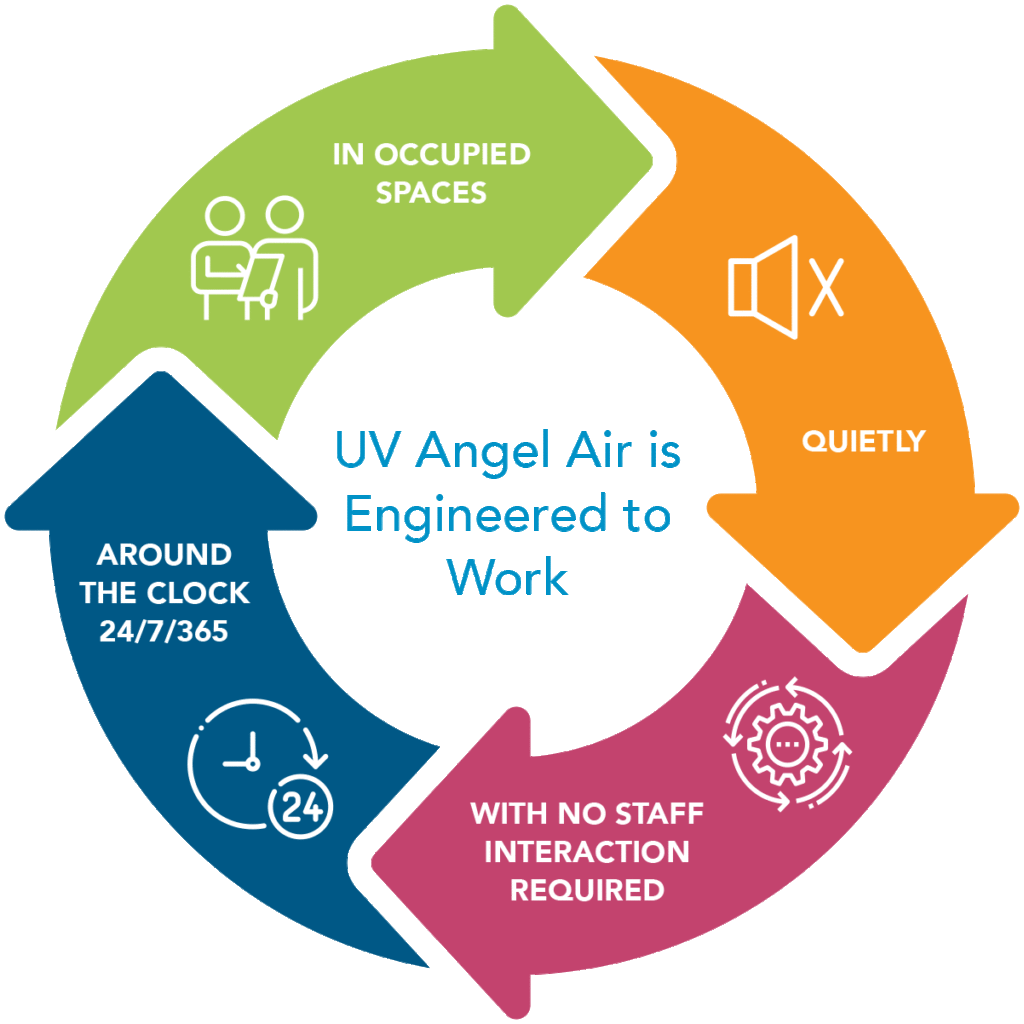 A Total Approach
The UV Angel team has a singular focus: to make the world a safer and cleaner place through next generation technology. By using its patented ultraviolet (UV-C) light technology, UV Angel has created an effective way to neutralize harmful pathogens, right at the source. Using a combination of hardware and software, UV Angel technology provides users with the tools that they need to ensure measurably safer and cleaner environments.
UV Angel is about empowering our partners with next generation cleaning technology.

Together we can help make the world a safer place to live and breathe.
Air Technology
UV Angel Clean AirTM
UV Angel Clean Air™ treatment is placed in seating areas, work areas, rest rooms, drive thru and check out/order stations to provide maximum protection.
How it Operates
The patented UV Angel Clean AirTM works by drawing contaminated air containing viruses, bacteria and fungi into a sealed UV-C chamber where they are quickly neutralized. Clean, treated air is then circulated back into the room.
Surface Technology
UV Angel Adapt
Touchscreens and kiosks are integral components to restaurants, coffee shops and other quick service restaurants, but a shared space makes these tools hazardous. Reduce the risk of spreading viruses and bacteria with an intelligent, automated UV-C that safely and continuously detects and neutralizes surface contamination.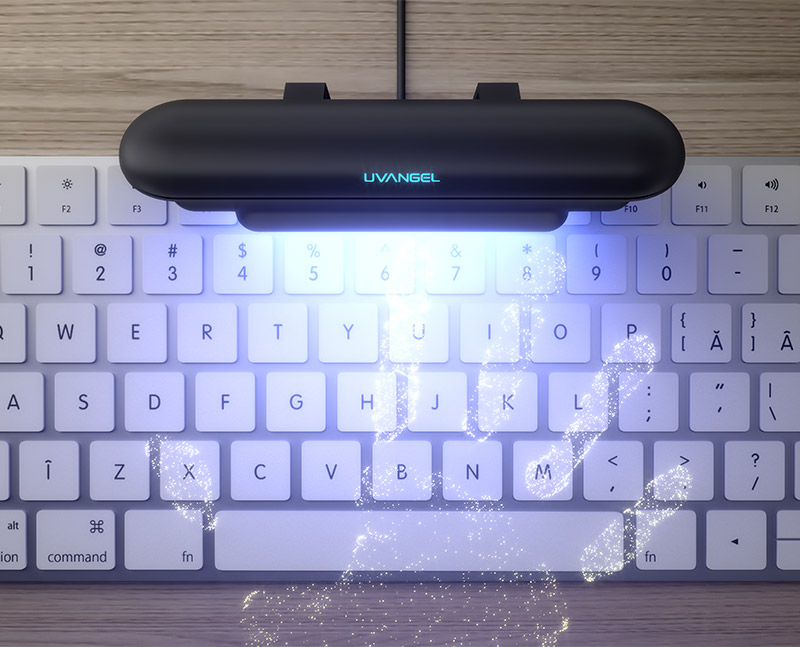 How it Operates
The moment a potential threat is detected on surfaces, the UV Angel Adapt neutralizes it at a cellular level, killing at rates greater than 99%. The platform is designed to operate hundreds of times throughout the day, providing a disruption-free workflow.
About UV Angel
UV Angel was founded with a mission to create safer environments around the world through the development of life-changing pathogen control technologies. The company uses years of advanced research and the latest technology developments in ultraviolet light, to help make the environments around us cleaner and safer by reducing harmful pathogens.
Fully automated, patented and proven safe, the company's UV-C technology can be used in occupied spaces to clean the surfaces we touch and the air we breathe. UV Angel's technology is complemented by a proprietary data analytics platform that delivers critical insights and strategic advantages to leaders in healthcare, food service, retail, corporate, education and many more industries. Learn more at uvangel.com.